Adult Grandchildren and Grandparents: Strengthening a Lifelong Bond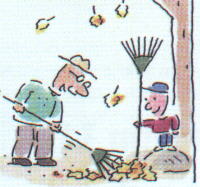 For a young child, waiting sixty minutes for a dinner is agony. Waiting sixty days for a birthday is an eternity. But sixty years? That seems like an unimaginably endless stretch of time. For this reason, many children have difficulty viewing their grandparents as anything but grandparents. Even in a close loving relationship, a young child may miss out on the nuances of personality and the depth of experience their older relatives can share. Now, as an adult, the gulf of years has narrowed between you and your grandparent. You now have the opportunity to get to know each other as individuals. Grandparents and adult grandchildren can share conversation, family stories, wisdom, companionship, and heartfelt laughter.

Although researchers lament the breakdown of the American family, a recent study revealed that the bond between adult grandchild and grandparent is surprisingly strong. As human life expectancy continues to increase, adult children have the opportunity to enjoy a longer, more satisfying relationship with their grandparents. Frequently, grandchildren report that they grow closer to their grandparents in adulthood.

The relationship between adult children and their grandparents is often freer and less inhibited than the parent/child bond. In a Central Missouri State University study of college students, adult grandchildren viewed grandparents as role models and as people with whom they can have fun. The following are ideas for keeping that vital connection to your grandparent alive.




Maintaining Contact
As a child, keeping in touch with your grandparent might have seemed effortless. That's because your parents probably orchestrated the relationship by arranging visits and planning activities. As an adult, though, you need to make the effort to maintain contact with your grandparent on your own.


In families where parents have maintained strong family ties, adult children are more likely to keep up a lifelong relationship with their grandparents. However, it is important for adult children to maintain ties with their grandparents independent of their parents and other relatives. This is particularly important in families where a disagreement has caused friction between the generations. In these instances, an adult child may jeopardize his/her future relationship with his/her grandparent unless s/he makes the individual choice to keep in touch.


If you have lost contact with your grandparent, re-establishing a relationship may at first seem daunting. However, it is extremely likely that your grandparent will be delighted to hear from you, no matter what has happened in the family. Following are some guidelines for making your visits with your grandparent as rewarding and enjoyable as possible:

Be punctual.

Arriving even a few minutes late may make your grandparent anxious. Try to be accurate about times and as reliable as possible.
Show respect for your grandparent's opinions.

Family members from different generations don't always share the same attitudes and values. Instead of arguing with your grandparents, try to emphasize areas of agreement.
Don't raise expectations you can't meet.

Be careful not to make vague promises that you have no intention of keeping. Grandparents may take you at your word and be disappointed if you don't follow through.
Arrange for an intimate visit.

Adult grandchildren who are close to their grandparents usually spend time together, one on one.
Take walks together.

Exercise is an effective way to slow the process of aging. By getting exercise on a regular basis, your grandparent will benefit physically--as well as emotionally-- from your role in his/her life. If your grandparent uses a cane or has trouble walking, offer your arm and slow down to a comfortable pace. If your grandparent uses a wheelchair, walks still offer a change of scenery and a dose of fresh air.
Be yourself.

Grandparents enjoy the opportunity to joke with their grandchildren. Share stories from your life; be honest about your hopes and aspirations.
Tell your grandparent: "I need your help."

Ask Grandma or Grandpa for advice about a problem or his/her opinion about what color to paint your kitchen. Remember that people of all ages need to feel needed.
If your grandparent is ill or frequently confused, it may be particularly challenging to maintain a satisfying relationship. But your visits are valuable, even if your grandparent can only spend a short period of time with you or doesn't seem to recognize you. Although your grandparent may not register his/her emotions, most health-care workers agree that elders feel strong emotions, which they may no longer be able to express.




Brightening a Grandparent's Day
Small gestures--a phone call, an unexpected visit, a note--can brighten your grandparent's day immeasurably. Following are some thoughtful ideas that will give your grandparent something to talk about for many days to come:

Cook together.

For generations, recipes were handed down directly--by watching a parent or grandparent cook. Ask your grandmother (or grandfather) to teach you to make his/her famous clam chowder or Russian tea balls. S/he will be flattered, and you will have learned a family recipe to pass on to your grandchildren.
Help your grandparent pick out a pet.

If s/he indicates that s/he would both enjoy and be able to care for a pet, go with them and help them pick one out. Hugging a pet has been shown to lower blood pressure. For elders in want of companionship, a small dog or a cat may be the perfect new friend. A full-grown pet with a calm temperament (try your local animal shelter) will be easier for your grandparent to manage than a puppy or a kitten.
Freeze a week's worth of dinners.

Chances are that your grandparent has cooked for you on more than one occasion. Here's your opportunity to reciprocate by preparing a week's worth of dinners in advance. Each time your grandmother or grandfather unwraps and eats a meal, s/he'll feel loved and remembered.
Telling Family Stories
Reminiscing is one way to reinforce the relationship between you and your grandparent. Telling stories can be a special, intimate way for grandparents to communicate with their adult grandchildren. The adult child gains greater knowledge about his/her family history, while the grandparent benefits from the insight and enjoyment of having the opportunity to look back over his/her life.


Vera Rosenbluth, author of Keeping Family Stories Alive, has observed that the act of interviewing elders deepens the bond between parent and grandchild. Sometimes it is easier for elderly relatives to speak more freely to their grandchildren than to their own children. A grandchild typically has fewer expectations and so it is easier to have an honest, non-judgmental exchange.


Researchers have found that the happiest families tend to pass on dynamic tales of their ancestors and of family solidarity. On the other hand, homeless people have few family stories because they tend to come from households in which security and structure were sorely lacking. Thus, preserving family stories is one way to pass on an all-important sense of belonging to each generation.


Many families find it worthwhile to preserve an elder's memories by recording a formal interview on tape or on a video. Because a project like this can strengthen the bond between grandparent and adult grandchild, consider volunteering for the role of "interviewer." Keep the setting as simple and casual as possible. The emphasis should be on your grandparent--not on the sound effect and camera work. Here are some suggestions for encouraging your grandparent to tell family stories:

Make no judgments.

Your role is to listen to your grandparent's stories. Avoid challenging his/her point of view or correcting his/her memory in any way.
Listen attentively.

In order to ask meaningful questions, you must be absolutely focused on your grandparent as s/he tells his/her story.
Don't be afraid of silences.

This is not the six o'clock news. If your grandparent pauses to think, don't rush in with an easier question. Give him/her the opportunity to gather his/her thoughts and formulate an honest answer.
Whether or not you decide to record a formal interview, the following are some interesting topics and questions that you might want to discuss with your grandparent:

When was the first time you saw TV/ rode an airplane/ visited a city?
What memories do you have of your grandparents? What did they look like?
Where did you meet your husband/wife? What were your first impressions?
What was your favorite food when you were a child?
How much money did you make when you got your first job?
What did you do during the depression or World War II?
Who's the most famous person you ever met?
Ask where family names came from. Be sure to ask how s/he chose your parent's name.
This is only a starting point. Indulge your curiosity. Most people are pleased and flattered to be asked questions about their lives.




Keeping In Touch Across The Miles
Distance is the most common reason that adult grandchildren cite for failing to maintain a relationship with their grandparents. Even though you live far away from each other, you can remain emotionally close.

Remember birthdays.

Sending flowers, mailing a card, and placing a phone call are all ways of showing your grandparent that you are thinking of him/her. For a surprise, tape record the whole family singing "Happy Birthday" and mail it off.
Encourage him/her to call you.

Some elders view long-distance phone calls as an extravagance unless there's an emergency. Purchase a telephone gift certificate from your long-distance carrier as a way to encourage your grandparent "to reach out."
Send notes.

If you're not much of a letter writer, clip an interesting newspaper article or send your grandparent a photo from your company picnic. Even a single hand-written line will demonstrate that you're thinking of him/her.
Make a personalized calendar.

Give grandma or grandpa a wall calendar marked with holidays and birthdays. You might tape a picture of each relative to the date of his/her birth.
Although the grandchild/grandparent bond is one that can last a lifetime, it takes effort and planning to maintain this relationship. Remember that strengthening your relationship with your grandparent is one way to enrich both his/her life and your own.




Resources For Further Information
Kornhaber, Arthur and K. L. Woodward.
Grandparents/Grandchildren: The Vital Connection.
New York, NY: Anchor Press, 1981.

Rosenbluth, Vera.
Keeping Family Stories Alive: A Creative Guide To Taping Your Family Life & Lore.
Point Roberts, WA: Hartley & Marks, 1990.

Stone, Elizabeth.
Black Sheep and Kissing Cousins: How Our Family Stories Shape Us.
New York, NY: Penguin Books, 1988.

Temple, Todd and Tracy Green.
52 Ways To Show Aging Parents You Care.
Nashville, TN: Oliver-Nelson Books, 1992.






For more information or a list of other Heritage Planning educational materials on helping your parents, contact:


Richard Smith or Roger Erickson
Professional Educators Benefits Company
Post Office Box 37102
Tallahassee, Florida 32315-7102



E-Mail: pebco@nettally.com
Telephone: Richard Smith: 850-385-2627, Roger Erickson: 850-385-5135
In Florida, outside Leon County call: 1-800-260-6573